Nigeria's housing market stabilizing, amidst improving economic conditions
After three years of house price falls, Nigeria's property market is now stabilizing, mainly driven by improving economic conditions. House prices were almost unchanged, amidst steady demand.
"The residential real estate market in 2018 was without significant changes in prices compared to the previous year," said Nigeria-based online real estate firm, PropertyPro.ng.
However, this masks local house price movements. Ikoyi, the most affluent neighborhood of Lagos, registered the highest y-o-y house price growth of 20% in May 2019, followed by Ibeju Lekki, with annual price increase of 12%, based on figures from the Nigeria Property Centre. House prices in Lekki, Ajah, Gbagada, Surulere, and Yaba were largely steady.
On the other hand, Ikorodu saw the biggest decline in house prices of 25% during the year to May 2019, followed by Ikeja (-16.7%), Alimosho (-10.7%), Isolo (-9.1%), and Victoria Island (-8.7%).
Lagos is the most expensive city in Africa. In Ikoyi, the average price of three-bedroom apartments was NGN 140 million (US$388,906) in H2 2018 while five-bedroom apartments are sold for an average price of NGN 350 million (US$972,266).
In other popular areas outside Lagos:
Abuja, the capital city of Nigeria, is experiencing increasing interest from both local and foreign investors. In Maitama, an upscale neighborhood in Abuja, the average price of four-bedroom apartments was NGN 213 million (US$591,693) while five-bedroom apartments were sold for NGN 350 million (US$972,266) in H2 2018.
In Rivers, the average prices of three- and five-bedroom apartments were NGN 40 million (US$111,116) and NGN 75 million (US$208,343), respectively.
In Oyo, the average prices of three- and five-bedroom apartments were NGN 13 million (US$36,113) and NGN 40 million (US$111,116), respectively.
In Ogun, the average price of three-bedroom apartments stood at NGN 11.5 million (US$31,946) while it was NGN 30 million (US$83,337) for five-bedroom apartments.
The housing market will continue to stabilize this year, with house prices and residential rents expected to either remain stable or rise modestly this year, according to local property experts.
In 2018, Nigeria's economy expanded by 1.9% in 2018, an improvement from a minuscule growth of 0.8% in 2017 and a contraction of 1.6% in 2016, buoyed by improvements in manufacturing and services, supported by the continued recovery in the oil sector, according to the International Monetary Fund (IMF). The economy is projected to improve further, with growth forecasts of 2.1% this year and 2.5% in 2020, based on IMF estimates. But the Central Bank of Nigeria is more optimistic, projecting a 3% growth this year.
AVERAGE PRICES OF 4-BR HOUSES IN LAGOS, MAY 2019

NGN
USD*
Y-O-Y CHANGE (%)
Ikoyi
240,000,000
666,697
20.0
Ibeju Lekki
28,000,000
77,781
12.0
Lekki
55,000,000
152,785
0.0
Ajah
45,000,000
125,006
0.0
Gbagada
50,000,000
138,895
0.0
Surulere
55,000,000
152,785
0.0
Yaba
65,000,000
180,564
0.0
Victoria Island
105,000,000
291,680
-8.7
Isolo
50,000,000
138,895
-9.1
Alimosho
25,000,000
69,448
-10.7
Ikeja
75,000,000
208,343
-16.7
Ikorodu
15,000,000
41,669
-25.0
*Exchange rate: NGN 360 = USD 1
Sources: Nigeria Property Centre, Global Property Guide
Foreign homeownership rules
Foreigners can obtain leases from the State for a maximum of 99 years for the use of land.
A peculiarity about purchase of property in Nigeria, particularly in Lagos, is the Consent Fee. The Land Use Act of 1978 converted all land to State Land. Therefore, land cannot be owned privately. Formally, the state government is the owner of land and therefore any change in ownership or assignment, in case of a lease, should have the consent of the Governor. The consent of the Governor of the State is needed for the assignment of title to use, occupy, and improve property with a statutory certificate. This certificate does not include rights to sell, give, or sub-let, which requires further consent from the State Governor.
Sale of real estate does not involve actual selling and purchasing. There is only the transfer of rights from one person to another. This transaction is usually called an 'assignment'. The seller assigns the rights to use and occupy the land to the buyer. After the transaction, the buyer applies for a new (statutory) certificate under his name. In this case, the seller acts as the assigner, and the buyer is the assignee.
In sum, before purchasing, it is important to make sure that consent from the Governor is obtained for the sale. No land can be "sold" without this consent.
Land price variations
Ikoyi, Lagos, one of the most prestigious office destinations in Nigeria, had the highest land prices at NGN 400,000 (US$1,111) per square metre (sq. m.) in H2 2018, according to PropertyPro.ng.
In Victoria Island, considered the commercial business district of Lagos, land prices averaged NGN 200,000 (US$556) per sq. m. In Ikeja, the state capital of Lagos, the average land price stood at NGN 113,000 (US$314) per sq. m. in H2 2018.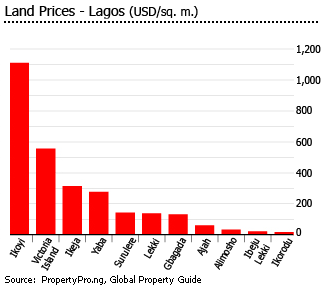 Other areas in Lagos have relatively cheaper land prices, ranging from NGN 52,000 (US$ 144) per sq. m. in Surulere to as low as NGN 6,000 (US$ 17) per sq. m. in Ikorodu.
Africa´s most ambitious real estate development ever!
Eko Atlantic City is one of the most ambitious real estate development projects ever undertaken in Africa - a megacity that will provide new homes for 250,000 people and office space for another 150,000 people, simultaneously protecting the coastline and solving Lagos´ chronic shortage of quality housing.
It is being constructed on land reclaimed from the ocean adjoining Lagos´ Victoria Island district and the Phase 1 area of Lekki, and covers around 10 million square metres (10 square kilometres).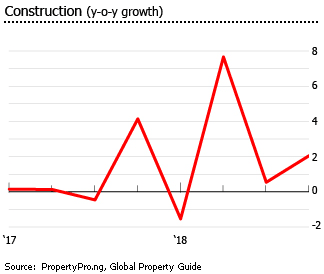 It is planned to have a positive environmental impact, as it will help stop the erosion of Lagos State´s coastline, though there are criticisms, with some alleging that construction is encouraging storm surges. Private companies and investors are providing the funding, while Lagos State Government is a strategic partner, with the support of the Federal Government.
Land prices in Eko Atlantic have nearly doubled since construction began in 2008. Currently, they are about 40% more than the land values in its close neighborhoods.
Other residential property developments in the country include the following (according to PropertyPro.ng):
4 Bourdillon – a 25-storey twin towers that is set to become the tallest residential building on the shores of Lagos. Located in one of Ikoyi´s most prestigious location, Bourdillon Road, Infinite Towers is set to offer 41 units of duplex flats and duplex penthouses. The development is expected to be ready for occupancy this year.
The Benmonte – a 20-floor luxury residential development located at 40 Bourdillon Road in Ikoyi, Lagos, offering a mix of apartments, duplexes and penhouses.
Overlook Condominiums – a luxury American style condominium development situated between the prominent Ikoyi Club Golf Course and the Lagos Polo Club. It comprises of 31 luxury condos, including 2 and 3 bedroom flats and 3 bedroom duplexes.
Seattle Court – a 6-storey prime residential waterfront development in the diplomatic enclave of Walter Carrington, Victoria Island. The development offers 24 luxury apartments.
Yields in Lagos are moderate
The average yield on Lagos Mainland residential property is around 4.30% per annum, while the average yield on Lagos Island is around 3.64% per annum, according to the Residential Auctions Company (RAC). Yields have generally been significantly higher on the Lagos Mainland except in 2010, when Lagos Island yields were marginally higher.
That´s because Lagos Island has seen stronger rises in prices than Lagos Mainland, with surging demand for luxury houses.
In Ikoyi, Lagos, the average rent for a four-bedroom apartment was NGN 9.5 million (US$ 26,390) annually in 2018, according to PropertyPro.ng.
In Victoria Island, four-bedroom apartments are offered for about NGN 5.5 million (US$ 15,278) per year while in Ikeja a similar property is rented for NGN 3.5 million (US$ 9,723).
Interest rates remain unsustainably high
In May 2019, the Central Bank of Nigeria held its benchmark interest rate at 13.5%, after a surprise 50 basis point cut in March 2019, in a bid to stimulate economic growth. The key rate has been held at 14% from July 2016 to February 2019 to support the naira and curb inflation.
The prime lending rate remains high at 18.23% in April 2019, up from 17.24% in the same period last year.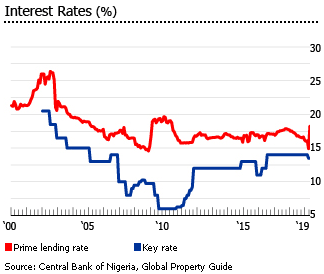 Prime lending rates for mortgage loans ranged from 14% to 36.5% in April 2019, based on a survey conducted by the central bank.
"Such high rates are not sustainable for real estate development where the gestation period in most cases is at least two years before any rental revenues start to accrue," said MCO Real Estate.
AVERATE MORTGAGE RATES (%), APRIL 2019

Banks
Prime (%)
Max (%)
Access Bank
14.00
29.00
Citi Bank Nigeria
16.00
22.00
Coronation Merchant Bank
19.10
19.50
Diamond Bank
20.00
23.00
Ecobank Nigeria
19.00
28.00
Fidelity Bank
19.00
36.00
First Bank of Nigeria
20.00
27.00
Merchant Bank
14.85
20.00
Guaranty Trust Bank
18.00
23.00
Heritage Bank
27.00
30.00
Keystone Bank Ltd
19.00
34.00
Providus Bank
22.00
25.00
Rand Mechant Bank Nigeria Ltd
20.95
20.95
Polaris Bank
28.00
34.00
Stanbic IBTC Bank
17.44
28.00
Standard Chartered Bank
20.00
25.00
Sterling Bank
24.00
30.00
SunTrust
22.00
30.00
Union Bank
24.50
36.50
United Bank for Africa
24.00
29.00
Unity Bank
24.00
32.00
Wema Bank
29.00
30.00
Zenith Bank
17.00
26.00
Source: Central Bank of Nigeria
Acute housing deficit
Nigeria has limited lots under formal title and even quality housing can often not be mortgaged, so that the formal housing market serves only the minority, according to Centre for Affordable Housing Finance in Africa (CAHF).
Nigeria´s housing deficit has worsened over the past three decades, and the housing deficit is now at least 17 million, up from 14 million in 2010, 12 million in 2007 and 7 million in 1991. Based on a World Bank report published last July 2018, the country needs about 700,000 additional units each year for the next 20 years to keep up with growing population and urban migration. However housing construction is now only about 100,000 units per year.
In Lagos, Nigeria´s largest urban area, about 70% of the total population currently lives in informal housing and slums, based on figures from Lagos State authorities. The housing deficit in Lagos is estimated to be around 2.5 million units. In major centres such as Lagos, Abuja, Ibadan and Kano housing demand is growing at about 20% per year.
To abate the situation, the Lagos State Government plans to build 187,000 housing units every year over the next five years. In 2016, the Lagos State Government began implementing its Rent-To-Own programme in five estates built under the Lagos Home Ownership Mortgage Scheme: the Sir Michael Otedola Housing Estate, Odoragunshin, Epe; CHOIS City, Agbowa; Oba Adegboruwa Estate Igbogbo, Ikorodu; Alhaja Adetoun Mustapha Estate, Ojokoro; and Hon. Olaitan Mustapha Estate, Ojokoro.
Moreover, the government is looking at the possibilities for partnering with private real estate developers. "When the private sector is involved and a conducive environment is there, necessary laws that will encourage housing development, I can assure you that the job will be easy for us to do," said real estate consultant Barrister Festus Adebayo.
Challenges facing the property market
Three main structural challenges face Nigeria´s property market:
1. Property registration is expensive. Land titles are prone to political interference because of the vast powers of governors over state land allocation.Bottlenecks inevitably arise in the property transfer system due to Nigeria´s federal structure.
Another hindrance is that 65% to 70% of land is still held under customary title. Even in areas where title deeds are more common, there can be difficulties in clarifying who actually holds title to the land. This title uncertainty often means endless challenges in court.
Nigeria is among the worst globally when it comes to registering property, according to the World Bank's Doing Business 2019 report, which ranks it at 184th out of 190 countries. In Lagos, the registration process can last an average of 105 days, taking an average of 12 procedures, and costing about 11.1% of the value of the property. Likewise, Nigeria also lags in terms of dealing with construction permits, which ranks at 149th out of 190 countries, according to the same report.
Neighboring Ghana only requires 6 procedures, 47 days and 6.1% of the property value. The cost of registering property in Nigeria is about 70% higher than the average for Sub-Saharan Africa and almost three times the OECD average. In South Africa, similar land registrations are completed in much shorter times and cost only 7.8% of the property value.
2. Housing construction handicapped by high costs. Building a house is very expensive in Nigeria. A three-bedroom house, for example, will cost about US$50,000, compared to US$36,000 in South Africa and US$26,000 in India, according to Finance Minister Ngozi Okonjo-Iweala.
The cost of construction is high for three reasons: high costs of building materials, high skilled labour costs, and costs associated with poor roads and sewerage systems.
About 75% of dwellings in Nigeria´s urban areas are built of concrete. Cement prices in Nigeria are about 30-40% higher than in neighboring countries and world market prices. The lack of public infrastructure adds as much as 30% to the total costs of the development.
3. Few can access mortgage finance. Only about 5% of the 13.7 million housing units in Nigeria are financed with a mortgage, and the mortgage debt to GDP ratio is only about 1%, and mortgage loans account to less than 1% of commercial banks´ total assets (specialist mortgage banks accounted for about 57% share of the market, according to the Central Bank of Nigeria).
Surprisingly, only 2% of Nigerians over 15 years old have a loan from a financial institution, and a meagre 0.6% have an outstanding loan for home purchase. Loans for home construction are more common, although still miniscule, at 1.7% overall, according to World Bank's Global Financial Inclusion (Global Findex) Database. Though the government set financial inclusion as a key pillar of its ´Financial System Strategy 2020´, the challenges are huge, including low literacy, high interest rates, rising inflation, and high poverty.
The Federal Mortgage Bank of Nigeria (FMBN) manages a National Housing Fund financed mostly by contributions from public sector workers. In 2016, the FMBN introduced a scheme offering a housing loan up to NGN15 million (US$48,900) to all interested Nigerians. However, before one can qualify, the borrower must make monthly contributions over a period of six months and make a downpayment of 15% of the value of the property.
Housing development agencies in various state governments have had very limited impact.
"The ecosystem for residential investment development still remains relatively broken. The lack of affordable mortgages is a major challenge, a major deterrent, a major hindrance to the development of residential properties in this market," said Michael Chu´di Ejekam, Director of Nigerian Real Estate at Actis, a London-based private equity firm.
Insurgencies have hit the north´s property market
The Islamist insurgency in Nigeria started in 1999 with the establishment of Sharia law in several Muslim-majority states in the north. Tensions between Christians and Muslims have resulted in thousands of killings, with deaths sharply increasing in recent years as conflict between the Islamic group Boko Haram and the secular government continues to grow.
Terrorist activities and insurgency have scaled up in recent times - as seen in the abduction of 110 high school students in the northeast town of Dapchi in February 2018. According to the UNICEF, Boko Haram has kidnapped more than 1,000 children in northeastern Nigeria since 2013.
The Muslim-Christian clashes have hit Northern Nigeria´s property market. Many residents in widely attacked areas and known terrorist hotspots (like Maiduguri, the Borno State capital, Yobe and Adamwa) have fled to other parts of the northern region, while some have left the region for good.
Fighting escalated in late 2014, with Boko Haram militants attacking and seizing several northern Nigerian towns. The militants seized control of Bama in late 2014, attacked the towns of Baga and Maiduguri in January 2015, captured Gwoza in March 2015 and Sambisa forest in April 2015, and raided three villages in Borno in July 2015.
"Unarguably, people are moving down south. The insurgency is really affecting the construction industry negatively," said Fred Akinloye, former chairman of Nigerian Institution of Estate Surveyors and Valuers (NIESV) Kano State Chapter. "Property values have gone down considerably because demand is very low."
"The [property] vacancy rate is as high as 30 percent in Yobe, Adamawa, Borno, Katsina and Kano," according to online newspaper BusinessDay.
Since 2009, the insurgency has killed more than 15,000 people and forced around 2 million people from their homes. Though the government has already retaken most areas held by the group, including its stronghold Camp Zero in Sambisa forest, violent encounters and suicide bombings have actually increased recently. In fact, an estimated 4.4 million people in northeast Nigeria are currently in need of food assistance, medical care, and shelter, according to Ertharin Cousin, the executive director of World Food Programme (WFP).
Efforts to spur housing sector
Nigeria´s property market, especially the Lagos market, has been improving in terms of transparency and ease of doing business, accoring to Jones Lang LaSalle´s Global Real Estate Transparency Index, In 2018, Nigeria ranked 67th among 100 markets, up 16 notches from 83rd in 2016.
A National Housing Policy was adopted in December 2011 to ensure that all "Nigerians own or have access to decent, safe and sanitary housing in healthy environment with infrastructural services at affordable cost, with secure tenure." Separate chapters deal with land for housing, housing finance, housing maintenance, building materials and construction workforce, social housing, and management information systems.
In 2012, then President Goodluck Jonathan convened a Roundtable on the Housing Sector which brought together key stakeholders. The Nigeria Mortgage Re-finance Company (NMRC) is the outcome.
Established with US$300 million from the World Bank, the NMRC will provide mortgage lending banks with increased access to long-term funds. NMRC should be able to deliver more than 75,000 new homes per year and generate 300,000 direct and 488,000 indirect jobs during the initial phase of the program. President Jonathan officially launched the NMRC in January 2014 in Abuja, and the company is now in operation.
The agency also expects to facilitate more than 450,000 loans for low-cost housing units over the next five years. As of December 2018, the NMRC has already refinanced mortgage loans totaling NGN 18 billion (US$ 58.7 million).
This follows earlier efforts. In 2000, the government established the Real Estate Developers Association of Nigeria and the Ministry of Lands, Housing and Urban Development, as well as restructuring the housing finance system through the Federal Mortgage Bank of Nigeria (FMBN).
Computerized land registries have also been introduced in Lagos and Abuja to address the lengthy registration process. In August 2010, the governor of Lagos State also signed a bill establishing the Lagos State Mortgage Board whose mandate is "to generate an environment that enables access to mortgage finance".
Economy improving, but unemployment continues to rise
Nigeria's economy expanded by 1.9% in 2018, an improvement from a minuscule growth of 0.8% in 2017 and a contraction of 1.6% in 2016, buoyed by improvements in manufacturing and services, supported by the continued recovery in the oil sector, according to the International Monetary Fund (IMF). The economy grew by 2.01% in Q1 2019 from a year earlier.
The oil sector grew by 1.14% in 2018 while the non-oil sector expanded by 2% over the same period, according to the NBS. In Q4 2018, oil production stood at 1.91 million barrels per day.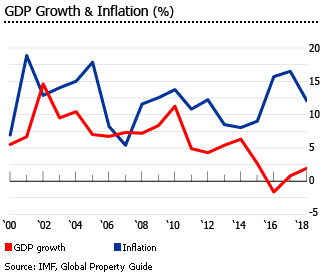 There had previously been growth rates of 2.7% in 2015, 6.3% in 2014, 5.4% in 2013, 4.3% in 2012, and 4.9% in 2011. The economy grew strongly from 2001 to 2010, with an average real GDP growth rate of 8.9% every year.
The economy is projected to improve further, with growth forecasts of 2.1% this year and 2.5% in 2020, based on IMF estimates. But the Central Bank of Nigeria is more optimistic, projecting a 3% growth this year.
In May 2019, Nigerian President Muhammadu Buhari signed an ambitious budget into law, amounting to NGN 8.92 trillion (US$ 24.81 billion), in an effort to boost the economy and increase its expenditure on security to help the government combat rising militancy and kidnapping across the country.
Buhari won a second term in the February 2019 elections, defeating his pro-business rival Atiku Abubakar who had pushed for privatizations and a shift towards a free-floating exchange rate regime.
In April 2019, nationwide inflation stood at 11.37%, slightly up from the previous month's 11.25%, amid a surge in food prices, according to the National Bureau of Statistics (NBS). After an annual average of 10% from 2006 to 2015, inflation climbed to almost 15% every year from 2016 to 2018.
Unemployment is rising sharply. In Q3 2018, the overall unemployment rate stood at 23.1%, up from 22.7% in Q2 2018, 21.8% in Q1 2018, 20.4% in Q4 2017 and 18.8% in Q3 2017, according to the NBS. Also, it was a sharp increase from an average unemployment rate of 8.8% from 2010 to 2016, according to the IMF.
Youth unemployment was very high, at 55.4% in Q3 2018.
Nigeria's "rebased" GDP; multiple exchange rate system
Nigeria´s economy is now visibly the largest in Africa after it "rebased" its gross domestic product (GDP) for 2013, from US$270 billion to about US$515 billion. That compares with South Africa´s GDP of US$367 billion and Egypt´s GDP of US$285 billion at the end of 2013.
While the revised figure makes Nigeria the 26th biggest economy in the world, the country lags behind in terms of income per capita, with US$2,049 for each citizen in 2018 - compared to South Africa´s income per capita of US$6,377.
The rebasing of Nigeria´s GDP has boosted interest from international property developers and foreign homebuyers to invest in the country´s real estate market.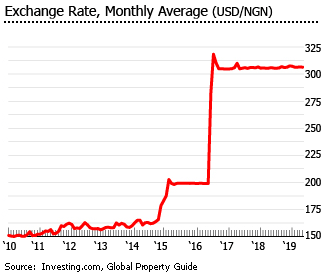 However, since the peg to the US dollar was abolished in June 2016, the Naira has been falling sharply, resulting to a contraction in the overall size of the economy. In fact, Nigeria's GDP shrank by almost a fourth to just about US$397 billion in 2018. After maintaining an exchange rate of NGN 197 = USD 1 for about 16 months, Nigeria´s central bank decided to move to a multiple foreign exchange policy to alleviate the chronic foreign currency shortage after the 2014 crash in oil prices. In just seven months, the Naira lost about 38% of its value.
In May 2019, the official exchange rate stood at an average of NGN 306.4 = USD 1, almost unchanged from a year earlier. However, the convertible Investors and Exporters window, to which the parallel market rate remains aligned, traded at a 20% premium over the official exchange rate at NGN 360 = US$ 1.
Recently, the IMF noted that the existence of multiple exchange rates creates distortions in the economy and discourages foreign investment. The international organization called for a unified market-based exchange rate and greater flexibility on a more permanent basis to support inflation targeting, shield the economy from external shocks and improve the country's trade competitiveness.
Baba Go Slow's war against corruption
President Muhammadu Buhari was elected in 2015 on a wave of hope that he could defeat Boko Haram Islamists and turn around a country blighted by decades of corruption and poor governance. During his first election campaign, he vowed to fight against corruption and insecurity if elected, and the anti-graft war has been one of his topmost priorities.
But though he was Nigeria´s first opposition candidate to defeat an incumbent, and recently won a second term, questions have often arisen about his fitness to govern. He has frequently been abroad for medical treatments, sparking one of politics´ more unusual conspiracy theories -- that he had died and been replaced by a lookalike from Sudan.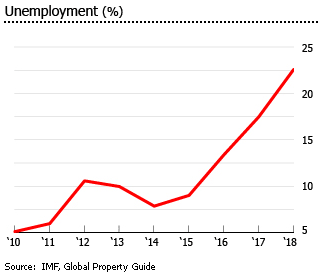 Some critics have focused less on his physical frailties and more on his mental faculties. After US President Donald Trump reportedly called him "lifeless" after the recovering Buhari visited Washington, his critics were delighted. After an appearance in a live televised question-and-answer session in January 2019, one commentator called Buhari "intellectually disabled".
Critics, who gave Buhari the nickname "Baba Go Slow" because it took him six months to appoint a cabinet, have continued to complain about his relaxed working style, and for concentrating power within a small group of trusted advisors, who like him are Hausa-speaking, ethnic Fulani Muslims from the north. These critics have included his wife, Aisha, who has criticised the so-called "cabal" around her husband, and retweeted videos of opposition lawmakers criticising the government. Nigeria´s lawyers have criticized his authoritarianism, suggesting that the anti-corruption campaign has been partial and favoured the ruling party.
Corruption is certainly a major problem. Based on a recent study conducted by PwC, corruption in Nigeria could cost up to 37% of GDP by 2030 if not dealt with. This cost is equivalent to about US$1,000 per person in 2014 and almost US$2,000 per person by 2030.
The northeast is in thrall to the Islamist terror organization Boko Haram. The police are abusive, violent, and corrupt. Power cuts are frequent, the roads ill-maintained. The press is under threat. The south periodically wonders whether it should separate from the chaotic north.
Colonized by the British, Nigeria gained its independence in 1960. The country´s oil industry boomed in the 1970s, making Nigeria Africa´s largest oil exporter. But with the world recession of the 1980s oil prices plunged, leading to a cycle of massive debt, soaring inflation, and large-scale unemployment. The oil price is now rising again, but little trickles down to the masses.
A 2018 report by Brookings Institution showed that Nigeria has already overtaken India as the world's poverty capital. In May 2018, Nigeria had about 87 million people in extreme poverty, representing about 45% of its total population.
Sources: